About (epk)
---
Bio
With a style all their own, Mountain Highway is a musical family group performing bluegrass, country, and gospel music originally made famous by icons like Bill Monroe, the Carter Family, Ralph Stanley, and a few outliers like the Eagles and Linda Ronstadt. Two sisters and a family friend play banjo, guitar, and mandolin as they sing three-part harmony, while the sisters' dad plays an electric upright bass.
Performing weekly as the host band for The Smoky Mountain Bluegrass Review at The Memories Theater in Pigeon Forge, Tennessee, Mountain Highway also travels to play at popular venues from New York to Texas. A few notable bookings have been the Brantling Bluegrass Festival (NY), Dollywood Harvest Festival (TN), Doyle Lawson & Quicksilver Festival (NC), Jerusalem Ridge Bluegrass Celebration (KY), Manton Bluegrass Festival (MI), and the Wind Gap Bluegrass Festival (PA).
The group's professional endorsements include Deering Banjos, GHS Strings, and Shubb Capos.
---
Promotional Pictures
To Download, click and then "right-click" to choose "save picture as."
---
Promotional Materials
Full size pictures and PDF files below may be used for promotional purposes by events, organizations, and venues that have booked Mountain Highway for upcoming performances. For all others, all rights are reserved.
---
Stage Plot / Tech Rider
Mountain Highway travels with its own 18-channel digital sound system, which it uses in all but a handful of its public appearances each year, per the Performance Agreement between the venue and the band. For those rare instances where "house sound" is required, the stage plot details the band's performance needs.
Stage Plot:

[jpg]
[pdf]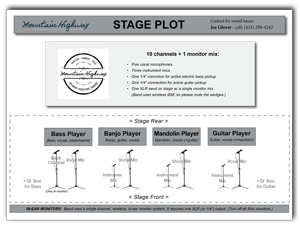 (Click image)
---
Studio Recordings
Listen to Mountain Highway's entire upcoming project:

Sample Mountain Highway's prior studio projects: